90 Ib weight Adjustable Bowflex SelectTech 1090 Dumbbells review
The purpose of this Bowflex SelectTech 1090 adjustable dumbbells review article just like the Bowflex 552,  is to give you a complete and unbiased analysis of this equipment so that you can be well informed should you decide to acquire one. You will know its pros, cons, performance comfort levels, recommended workouts and price consideration. The article subtitles are written in a Q (Question format) so that you can quickly find answers to your questions.
The article subtitles are written in a Q (Question format) so that you can quickly find answers to your questions if you don't have the  time to read through the entire article but I can assure you that it will be most beneficial to read the entire article so that you can get very important information, some of which the manufacturer has not mentioned, and are based on user experiences.
What is a dumbbell?
A dumbbell is associated with church bells. Because it required a considerable amount of strength ringing a very heavy church bell. New ringers, using a rope that was attached to a metal weight to develop arm strength  as they practiced by swinging the rope against a non-existing and imaginary bell, no sound was produced because it was silent and dumb, thus the name dumbbell
Dumbbells are used for strength training and toning exercises designed to build you both upper and lower body coupled with heavy leg lifts.
What are the Bowflex SelectTech 1090 dumbbells?
Are you someone who want or really needs to be able to do your workout at home? Do you have limited space in your home to set up workout equipment? Or do just need a simple but efficient high-quality multi-weight equipment for your strength workout at home? Then the Bowflex SelectTech 1090 Adjustable Dumbbells are your ideal solution.  It can be part of your home gym setup. Bowflex also have other home gym equipment?
Then the Bowflex SelectTech 1090 Adjustable Dumbbells are your ideal all-in-one solution with a unique design. This equipment combines a set of weights that utilize a unique dial system making it one of the most efficient and space-effective strength training choices or options available today. You can automatically change the resistance level of each dumbbell from 10 to 90 Ibs of weight thereby enabling you, without bulking up, to gradually elevate your strength thus the name dumbbell 1090.
You can automatically change the resistance level of each dumbbell from 10 to 90 Ibs of weight thereby enabling you, without bulking up, to gradually elevate your strength thus the name dumbbell 1090.
You can automatically change the resistance level of each dumbbell from 10 to 90 Ibs of weight thereby enabling you, without bulking up, to gradually elevate your strength thus the name dumbbell 1090.
Why should you prefer adjustable weight dumbbells?
If you are familiar with dumbbells for the purpose of either weightlifting training or just building or exercising your muscles, you know that you have to user different dumbbells to achieve your goals. Which means that at different times during your exercise you have to graduate from one dumbbell weight level to another.
These can be accomplished using the fixed or adjustable weight dumbbells and each has its advantages and disadvantages. The only advantages that the fixed weight has over the adjustable dumbbell are just the durability and price. They are usually one solid piece making them difficult to get bad, but to accomplish your goal you might have to use a lot of them .  There are some exercise routines and programs that require that the weights be varied very quickly to get an effective outcome. These kinds of routines  cannot be performed easily with fixed weights. Although fixed dumbbells are less expensive,  the price can add up if you have to graduate from one weight class to another or require many weights for your routines.
How good are adjustable dumbbells?
Since you sometimes have to use different dumbbell weights, you might have to search for a particular weight. That is where adjustable weight dumbbells come into play where you would have a variety of weight ranges on one device and all you would do is to select your desired weight. The weight selection  is done through a manual, magnetic or dial-action, with the dial action being the most favored. the Bowflex Selec-tech 1090 dumbells use dial-action technology.
How are they different from traditional dumbbell?
Space efficiency:
Because of their ability to be adjusted to meet different weight requirements, they have the advantage of requiring minimal space and providing excellent ergonomics and maximum security.  Equipped with a mechanism that enables the selection of different desired strength these dumbbells have replaced the traditional comprehensive collection of non-adjustable dumbbells just with a single pair of adjustable that you can just easily slide under your bed when not in use.
Does it come with a training program?
With the 4 step rep DVD training guide, you are going start off your training on a good footing. bad habits are difficult to break off. There are good ways and bad ways to lift weights or do strength training and if you are not taught by the pro, you might be doing the wrong thing with the potential to either get hurt or have an ineffective outcome.
You can utilize the several exercise and training guide that comes with the equipment and make some good use of the 6-week program that can greatly improve your results by doing you strength training and muscle tone workouts the right way.
Wha are some of the main Things to consider before buying the dumbbells?
Some customers who purchased it have expressed some concerns about the price of these adjustable dumbbells.
Why are adjustable dumbbells  so expensive?
The cost of the adjustable dumbbells may seem to be pricey compared to the traditional dumbbells, but when you consider that they are going to replace a whole set of dumbells, its value should be considered in any purchase decision. These dumbbells are used to achieve results that can only be achieved in a gym setting because of their operational friendliness and instant choice availability during a workout.
Take into consideration that there certain routines that you cannot perform with different sets of fixed dumbells weight. With the Selectech 1090 dumbbells,  you can achieve greater success because following a program like the p90x requires that the weights be changed constantly which can easily be achieved with this adjustable dumbbells plus the different ends can be easily offloaded to create offset resistance, giving your exercise more effectiveness.
Since they are extremely long, it becomes sometimes difficult to do exercises that would include holding two dumb bells next to each other because they would be touching each other. If this happens, you might find it difficult to perform exercises like the P90X Crouching Cohen Curls or the Preacher Curl. This is not a deal breaker but you should just know that they are long.
What are some of the dumbbells precautions during operation?
This is going to be your product and you cannot be careless and drop the dumbbells on the floor as most people do in the gym. The instructions on the warning sticker specifically preclude dropping. This is because it might destroy the equipment as it has moving parts.
In order for the unit to work flawlessly, the dumbells have to fit nicely in their place. Some Users in their amazon product review have expressed having problems with the dial. This is mainly because they do not concentrate on placing the dumbbells in their right position. This becomes even more crucial and requires more care especially when your hands get tired.
Do I need a bench to work with the dumbbell?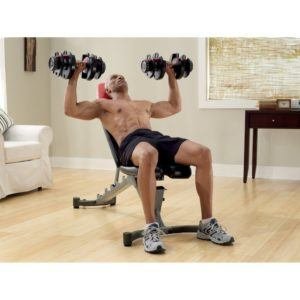 An effective workout using the Bowflex dumbells without a bench is possible but getting a bench is highly recommended because it is going to make your exercise a lot less stressful since you would no have to be bending down each time you do your workouts. A workout bench is usually a nice thing to have when working with dumbbells just because it adds to the flexibility of your routines.
Do they make a lot of noise?
Noise is usually a concern when you have several weights tucked together and the last thing you would want is to have high noise levels coming from the dumbbells during workouts and you might be wondering if the selectTech dumbells set are banging together and making a lot of noise.
This can be annoying especially when you are doing your routine with some music or you just want a quite environment. What if you are residing in an apartment building where you don't want to disturb your neighbors with the dumbells banging to each other each time you
drop them?
Be rest assured that these dumbbells don't make disturbing noise compared to more traditional dumbbell sets. This is because they are made with a set of moldings surrounding them to prevent banging. It is even better and more convenient when you purchase a Bowflex  dumbells stand along with the dumbells.
How is the grip?
One of the downsides of this equipment is the grip. A couple of users have raised concerns about the handle which are metal that have polka patterns along the length perhaps to improve the grip but it is discomforting during prolonged usage. If Bowflex could improve on the handle by using a rubber grip to alleviate discomfort to some users. The best way to use the equipment is to implement hand gloves for a comfortable grip.
What is the weight range of the selectTech 1090?
The Bowflex SelectTech 1090 is a machine that was designed for athletes that want to take their weight and physical training to the next level. Offering a wide weight range for you to work with, it starts at 10 pounds and extends to 90 pounds for each dumb bell, with an adjustable increment of 5 pounds allowing you to chose from seventeen different weight settings.
Its main limitation when it comes to weight increment is that it cannot adjust to 2.5 pounds increments as the selectTech 552. It can only adjust to five pounds increment. In terms of weight increment, the 1090 is not too far from the 552 since the 552 only allows the 2.5 weight increment fo the first 25 pounds.
if you have to lift more than 50 pounds, the 2.5 increment becomes unnecessary, I have not had any issues using the equipment using the designed 5-pound increment
What about adjustability and ease of use?
The best function of the SelectTech 1090 just like the 552 is the dialing weight system that makes it possible to change the weight from 10 to 90 pounds with no effort required. The way it works is that with a dial and bracket system built int the handle of each dumbbell, the weight settings are being regulated by the dial. meanwhile,  the weight plates are physically attached by the brackets inside the handle.
The way it functions is that if a weight range is desired, say 40 pounds, it is achieved by the bracket essentially grabbing the weight plates needed to make 40 pounds, and would lock them onto the handle. All you would need to do is to pull the dumbbell away from its cradle and "bingo". you are ready to go.
RECOMMENDED WORKOUTS
Workout A:
Bench Press
Bent-Over Row
Chin-up
Standing Press
Squat
TSC Neck Extension
Stiff-legged Deadlift
Weighted Crunch
TSC Neck Flexion
Wrist Curl
Wrist Extension
Workout B:
Pull-up
Durability
One-legged Calf Raise (R/L)
Parallel Bar Dip
Incline Press
Deadlift
Sissy Squat
Underhand-grip Row
Weighted Twist Crunch (R/L)
TSC Neck Lateral Flexion (R/L)
Technical Details
Minimum weight: 10 pounds
Maximum weight: 90 Pounds
Weight increment:5 pounds
Number of weight settings: 17
Shipping weight: 150 Pounds (It is recommended that you purchase them as a pair although they can be bought as
single).
Weight: 90 pounds per dumbbell
Size: 17.5″L x 9.5″W x 10″ H
Warranty: 3 years
No assembly required
How is the quality and durability?
the Bowflex SelectTech 1090 performs pretty well. Bowflex being a well-renowned manufacturer of exercise equipment knows what their users need. They have built on the success of the Bowflex 552 and come up with the 1090 for those who would want to advance their weight limits. With the same high-quality product standard, they have used high strength material to provide a secure lock on the weights when the bracket system is in use.
To withstand some roughing up, the weight plates have been coated with a plastic liner. this liner does not only adds durability, it also allows movement of the weight plates next to each other. This is necessary because, during the changing of the weight settings, the dumbbells would have to slide in and out of the cradle.This also helps to reduce noise levels.
The downside of the durability has to do with the dial system. Since the system has moving parts, special care has to be taken not to drop the dumbbells on the floor during exercise as this might impede its function.
What about its product reviews?
It doesn't matter what the manufacturer says about any product. Reviews from actual users are worth the weight of gold because they can tell you what the manufacturer did not mention. Although this Bowflex SelectTech 1090 dumbbells review mentions some of the customer concerns, the best way to evaluate the product is to read the reviews for yourself and amazon.com has a lot of them.
PROS AND CONS SUMMARY
pros
state-of-the-art Design: Weight settings are easily altered just with the turn of a dial with their ingenious dialing mechanism that selects and engages different weights. Other forms of weight variables during a routine would need to remove the plates by unscrewing them. This can make your routine slow and unpleasant.
The use of this equipment can help you save a lot of space in a  home where real estate is a premium.
The cost of just using similar weight range on a traditional dumb bell set would be more than $1000.00 which means that, on top of the ease of use you are getting a great deal for your money.
With the weight range os 10 to 90 pounds with 5 pounds variable, these weight range is suitable for beginners and professionals alike
Cons
Although the 1090 is suitable for both the beginner and pro alike, it does not have the minimal weight increment of 2.5 pounds that the selectTech 552 has. This might make it a little more challenging for a beginner who would want to have a gradual increase in their weight training. Those individuals might want to consider purchasing the 552 model.
Moving parts: With any device having moving parts there is bound to be some noie caused by friction as they rub against each other. Although there is some rattling involved, Bowflex have designed their dumbbells to minimize the noise by making the weights with a plastic coating.
Care
Bowflex has done a nice job with the high strength material they have used in their design, But with an equipment having moving parts, it has some short-comings and it all has to do with care. Dropping the weights on the floor regularly after completing a routine is bound to cause some problems with the dumbbells malfunctioning.
To prevent this from happening it is advised that after a routine, you put the equipment down carefully and they should be slowly and carefully lifted out of their base during use, and not at an angle. Thes are just precautionary measures and good practice.
Where is the best place to buy the Bowflex SelectTech 1090?
There are several places where it can be bought but the recommended place is online preferably on amazon.com. Buying online has some advantages. You just place your order and you get your product a few days later. For latest pricing and other information about this product you should check on  Amazon.com as the price fluctuates based on market condition.
As with buying any other physical product purchase, online shipping should always be considered. Bu if you buy from amazon you might have free shipping especially when you participate in the amazon prime program that comes with free shipping and fast delivery.
My final take
I hope that I have provided you with enough information on this  Bowflex  SelectTech 1090 adjustable dumbbells review. One of the most important aspects or features that I find with these adjustable workout dumbbells is the space saving effect that I have gained by having one unit replacing up to about forty individual dumbbells.
OK, maybe forty is a stretch and an exaggeration, but just the fact that I can have all of the weights in one unit and change them on a dime to create a weight limit that fits my routine make this unit very appealing to me, in addition to saving space in my small apartment. I would recommend this variable dumbbell set for convenience and efficiency to anyone who
I would recommend this variable dumbbell set for convenience and efficiency to anyone who
wants to start lifting weights to increase muscle mass.
If you think that this  Bowflex  SelectTech 1090 adjustable dumbbells review article has provided you with answers to most of your questions and this basic toning, heavy leg lifts and strength exercises equipment is for you, click on the link below and go to amazon to purchase