Recumbent Exercise Bike Reviews – 4 Best Weight Loss Bicycles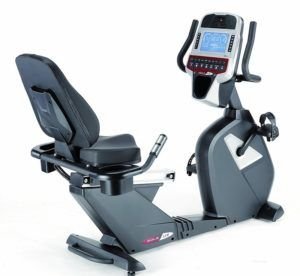 Are recumbent bikes good for weight loss? To come to this page, you must have heard about recumbent bikes being used to lose weight and want to know more about them.
Are you looking for the best recumbent exercise bike reviews for weight loss to help you make a purchase decision?
You deserve answers to all of those questions and I am going to provide them to you. You are also going to get reviews of four of the best recumbent bicycles at various price points to meet every budget, exercise, and comfort  level.
It used to be that an "exercise bike" was much like a standard bicycle mounted to a steel frame. These days there are hundreds of different types of exercise bikes that can be placed into three basic categories spin bikes, upright bikes, and recumbent bikes. And Yes! for weight loss, you should be looking at recumbent bikes. These recumbent bicycle reviews will provide you with our 4 best picks for weight loss.
How Do Recumbent Bikes Work?
Recumbent bikes are a safe way to exercise. If you've ever ridden one of those early generation exercise bikes, you know how uncomfortable they were. Most people couldn't stay on them for very long before discomfort set in. But today's recumbent bikes make indoor cycling far more comfortable so you can do it for longer periods of time and maximize the value get you get from each workout.You can have it as part of your home gym equipment.
Are recumbent bikes  good workout equipment for weight loss?
For more intense cardio workout, and to simulate an outdoor road bike an upright or spin bike is much more preferred to a recumbent bike. But burning fat requires that the body work at a very low intensity during workouts and that is where a recumbent bicycles outperforms an upright or spin bike.
What's great about recumbent bikes is that there's a bike for every purpose. You can spend a few hundred dollars or several thousand dollars to get the bike that's right for you.
The popularity of recumbent bikes means that manufacturers have devoted more of their resources and research to develop bikes that are ergonomically correct and ultra comfortable to make your cycling more efficient and pleasurable. You can't lose with a quality recumbent bike model like those recommended here.
There are other advantages to owning a recumbent bike versus other exercise equipment such as a treadmill. For one thing, the size of a recumbent bike occupies in a room is much less. Their frames tend to be lighter and therefore, easier to move around. They're still large pieces of equipment and fairly heavy. So, it's not the kind of thing you want to move around frequently. But it's nice to know that if necessary, you can move your bike fairly handily whereas moving a large treadmill is much more challenging.
Which muscles Do recumbent bike works on?
The muscles that the recumbent bicycle works on are the quadriceps which are the very large front thigh muscles which work as knee flexors. As you push the bike pedals to assist the gluts, these muscles are being worked on as they also aid in drawing the legs up again as you continue with the pedaling motion.
When you're sitting in a reclined position on a recumbent bike you have more lower back support and reduced impact on your knees hips and tendons. There's also a more even weight distribution so any one part of your body is not being overtaxed. This means you can go at it for longer sessions – and gain the rewards of that additional exercise.
Recumbent bike exercise is low impact, yet you have a wide range of resistance levels so that you can make your workouts as challenging as you want. This means the recumbent bike is good for virtually every member of the family.
Another important point about recumbent bikes is that they have generally what is considered walk-through frames. With a low frame profile it's incredibly easy to get on and off. This is particularly useful for anyone with limited mobility such as seniors, or those recovering from surgery or injuries and using their recumbent bikes as a therapeutic tool.
What to Consider before you buy a recumbent exercise bicycle for fitness
Before you buy, there are some things that are important to consider before making your selection such as:
How many people will be using the bike?
How frequently will you be using the bike?
What are your overall fitness goals when using the bike?
How much room do you have for this piece of exercise equipment?
It's important to consider these basic questions before making your purchase. If you're only going to be using the bike once or twice a week, you probably don't want to buy a top of the line machine like the Sole Fitness LCR. But if you're planning to use your exercise equipment several times a week over months and perhaps even years, than you don't want to buy a bike that can't withstand that kind of use. Based on you preference and/or budget you can chose from any of the three best  recumbent exercise bicycles for weight loss as part of your home gym equipment.
Best Recumbent  Bicycles Under $200 – Exerpeutic 900XL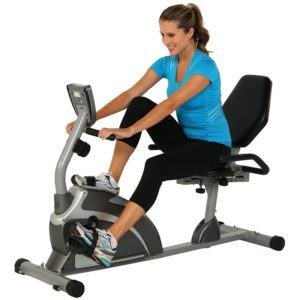 If you're looking for a capable, budget-friendly recumbent bike, consider the Exerpeutic 900XL. It's both solid and affordable. You won't find any extras on this unit – but that's to be expected in the low-cost category.
For some people, the Exerpeutic 900XL is the ideal solution. It gives them the recumbent bike experience and exercise benefit, without blowing the budget. For beginners or first-time recumbent bike owners, this one is worth a closer look. For more experienced, exercisers, I recommend an upgraded recumbent bike like this one.
You might think that in a low-cost exercise bike you're not getting much value. While that be true with a lot of brands, that's not the case with the Exerpeutic 900XL from what I can see.
No! you won't get a lot of extras here. It's a basic recumbent bike. But if that's all you're looking for – look no further than this particular model because it's the best we've seen in this price range.
What the 900XL delivers is a sturdy frame that's built to accommodate riders up to 300 pounds. Even though this piece of equipment weighs in at just 63 pounds, this lightweight machine has a low center of gravity and extended leg stabilizers, so it stays put while you're on it – even during an intense workout in your gym.
The Exerpeutic 900XL measures 22 inches wide by 34 inches high by 54 inches long. It doesn't create much of a footprint the way a lot of exercise equipment does. And it's easy to move around a room, thanks to the added mobility wheel that's part of the bike frame. So you can use your living space for other things as needed.
Despite its low-cost, the 900XL has a flywheel that is precision balanced, and a belt drive to provide smooth torque. The result is an overall quiet operation. What's also rare in a machine this inexpensive is the built-in hand grip heart rate monitor. Even though it's not super-accurate since you don't input any user data such as age. it's still a cool feature to check out whenever you're riding.
There are eight levels of magnetic resistance on the Exerpeutic 900XL. It comes with a cushioned oversized seat and large foot pedals that are designed for comfort and to prevent any slipping.
The built-in LCD display provides the essential information including distance traveled, calories burned, time elapsed, and your heart rate.
As for warranty, the frame is covered for three years and all parts are covered by a 90 day protection plan.
The Exerpeutic  is just one of the brands that are part of giant company called Paradigm Health and Wellness, a large exercise equipment maker whose head office is in California.
The Exerpeutic 900XL Recumbent Bike buyers Reviews and feedbacks
What Buyers Like About this model
Nobody buys this model looking to get all the fancy add-ons that are often part of more expensive packages. It's a basic model and that's all. Yet, it does the job quite well. And at this low price, it's affordable for most families. It's a cleverly designed bike – one that's easy to get on and off.
What Some Don't Like About It
Some buyers have reported that the bike can get a little noisy as squeaky parts come into contact with one another. But the issue may have already been resolved by the manufacturer since most of these complaints are somewhat dated.
There are only eight levels of resistance on this bike, making it a basic model. Furthermore, the resistance needs to be manually set, so it's not the most convenient to use if you like to change resistance levels frequently. For more intense and elaborate exercise, you'll need to spend more than you will on this space model.
Verdict  On The Exerpeutic 900XL
While it's a standard and basic recumbent exercise bike, the 900XL can be an effective piece of equipment to help you get in shape and/or lose weight. To be fair, this is probably a recumbent bike best suited to first-time buyers. If you've used one in a hotel or gym and liked it, you might be happier with an upgraded brand, like the Proform or Sole.
Best Recumbent Bicycles Under $600 – ProForm 440 ES Exercise Bike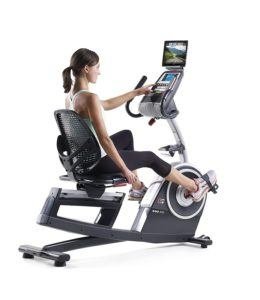 Overall dimensions of the Proform 440 ES are 22.5 inches wide by 52 inches high by 59 inches long. User weight capacity is listed at 350 pounds.
The Proform features more than 30 workout apps, as well as iFit compatibility. Proform has recently reengineered their recumbent exercise bike to make it appeal to a wider audience. The changes include a stronger, though slightly higher off the ground, frame. This has subsequently increased its weight capacity to 350 pounds per user, from the previous 300 pounds.
Proform offers a comfortable seat with added lumbar support to help you maintain a comfortable posture as you exercise. Touch sensors are built into the handle grips and 25 different level's of resistance are provided. There's a water bottle holder – so staying hydrated is easy. It's surprising how many manufacturers still don't include water bottle holders on their recumbent bikes.
Main features – in addition to the 32 workouts provided – include: backlit visual display, feet that make it adjustable and easy to level on any floor, wheels for moving it around, water bottle holder, AC adapter, compatible music port for iPod, USB charging station, cool air workout fan, tablet holder, three-piece crank for smoother more comfortable ride, and large size, extra-wide, ergonomically designed foot pedals with straps.
Clearly, somebody actually climbed aboard this thing to make the clever design improvements feature on the Proform. Among the most obvious improvements is the console design. They've done a great job in organizing multiple buttons. The interface is actually highly intuitive and easy-to-use. Quick select buttons make it easier to change between predefined levels. This means that your hands are off the hot heart monitor grips for much less time ensuring a more accurate reading in real-time.
Warranty
The frame has a lifetime warranty. Parts are warranted for two years and labor charges are covered for one year.
Best Recumbent Bicycles Under $1000 – Diamondback 510SR Fitness Recumbent Bike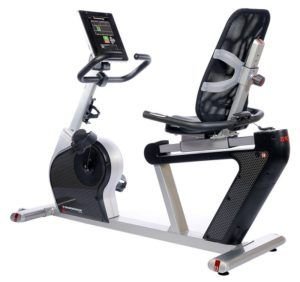 This one's a beauty. From its ergonomically designed frame to the reclined position and seat angle that reduces stress on the joints and tendons – a lot of thought and user experience has gone into the engineering of the Diamondback. The seat is well cushioned seat and contoured to fully support the lower back and allow unrestricted movement of the legs. This is important for both comfort and the ability to there to very intensity levels.
A mesh back provides comfortable ventilation and the built-in fan helps keep you cool as you work up a sweat.
There are numerous height settings for the back support and the distance between the seat and pedals of the bike are easily adjustable with a quick lever adjustment. In just seconds, this bike can be reset to fit to any size of body within its range.
With 32 levels of resistance – there's no limit to the conditioning potential of the Diamondback. As capable as it is, it's also a quiet and smooth running machine. So you can easily watch TV or listen to your favorite music as you cycle.
What is particularly good about this model of recumbent bike are the preset workout programs and the built-in docking station. You get a media center right within range capable of supporting an iPad, iPhone, or iPod with its built-in docking station.
Preset programs include a Quick Start, six interval training programs, six hill climb programs, six strength training programs, and three fat burning programs.
Even though the fat burning programs offer the lowest resistant levels, they help keep your heart rate at a constant level – something that experts agree is optimal for weight loss.
There's also five random programs for the more adventurous and two lap programs. Plus, there are three heart rate control programs with two distinct user setups.
Having a user set up mode is critical for accurate heart rate monitoring. That's because age is an important factor. Any exercise equipment that provides a built-in heart rate monitor but doesn't allow for you to input your specific age and other details, cannot provide accurate information. That's one big reason to opt for quality recumbent bike like the Diamondback 910 SR.
People love the whisper-quiet, smooth running operation. And its step through design makes it easy to get on and off the bike. The wide variety of workouts provided give you enough variation to reach any fitness goal. Adjustment options ensure maximum comfort for virtually any body size or type and the well padded seat enhances one's comfort level. The backlit display makes it easy to read at any time and the ventilated mesh back helps keep you cool.
Diamondback  Fitness recumbent exercise bike – buyers feedbacks and Reviews
What People Don't Like About This Model
Assembly instructions seem to be inadequate. Like so many products that require assembly, the instructions are a letdown compared to the finished product. In this case, they tend to mash multiple steps into a single diagram, making it more difficult for the average user to understand.
The fan is said to be on the weaker side. That's a complaint heard about a lot of fans that are built-ins.
The angle of the seat is not adjustable – only the distance from the pedals can be adjusted.
Warranty
The frame carries a lifetime warranty, while parts and electronics are guaranteed for three years. Labor charges are covered for one year and "wear" items for 90 days.
Best Recumbent  Bicycles Under $2000 – Sole Fitness LCR Light Commercial Recumbent Bike
Ready to step up to the ultimate recumbent bike experience? Then you're ready to consider the Sole Fitness LCR. This bike is among the most rugged and sturdy list. In fact it's the exact same recumbent bike that is used in fitness clubs and hotel gym facilities. It features a 350 pound user weight capacity and comes complete with a lifetime frame warranty.
What makes the frame on the Sole Fitness LCR recumbent bike so strong is that it's made from heavy duty steel tubing on the inside, while the outside is wrapped with durable, sleek-looking, and moisture-resistant aluminum.
But the extra strong frame is only part of the story. The other outstanding advantage the Sole Fitness LCR offers is 40 levels of whisper-quiet resistance – about twice what most top-level competing brands offer. So it doesn't matter what level of fitness you're at currently.
You can grow with this machine like none other. And rest assured, you're going to get an intense workout no matter where you are on the fitness scale at the present time. The real beauty of the Sole is that it's a machine you can grow with and reach any fitness goal you can imagine.
The Basics
Overall dimensions of the Sole Fitness LCR Recumbent Bike are as follows: 30 inches wide by 50 inches high by 57 inches long. The weight of the machine comes in at 157 pounds.
The rock-solid frame comes with a lifetime guarantee, while parts and electronics are protected by a five year warranty. In-home labor costs are warranted for two full years.
What else do you get with the Sole Fitness LCR recumbent bike?
Plenty. But let's start with what makes this one of the most comfortable rides you're ever going to get. Every element has been ergonomically engineered, from the 12-postion seat to the comfortable and oversized foot pedal design that prevents the sore feet and knees you may have experienced on a lesser piece of equipment.
There's also the 30 LB flywheel that provides stability, dual heart rate monitors (handgrip and chest strap type), cool down fan, water bottle holder and a convenient plug-in for your iPod or other MP3 player so you can listen to your favorite music whenever you workout.
You also get an impressive 9 inch backlit console complete with all the data you need – speed, duration, distance, pulse, calories burned, and resistance level – right in front of you on this larger than typical screen. You also get 6 pre-programmed workouts that will push you to get into the best shape of your life.
The Sole Fitness LCR recumbent bike feedbacks
What People Love About It
The Sole Fitness LCR is one of the better recumbent bikes you'll ever see and buyers generally love it. It's frame can stand up to a lot of abuse, so you can figure on this bike lasting you a long time. The level of comfort it provides along with the wide range of resistance makes this one a favorite of at home exercise enthusiasts.
Complaints? There Have Been A Few
Some people have mentioned that this is a difficult bike to assemble. Typically, I recommend putting aside 2-3 hours to do the job. But if you're not handy with mechanical devices, you can always pay someone who is to do it for you. It's also an expensive bike – so it's not the right fit for everyone.
The Verdict on recumbent exercise bikes
What bike is best for you really depends on who is going to use it and what you're planning to get out of your exercise program. You can't really go wrong with any of the four bikes recommended here.
A quality recumbent bike is an amazing piece of equipment to have in your home. It will permit you to exercise in a variety of ways and at different intensity levels from the comfort of home.
When you can exercise inside, you're not dependent on outside conditions such as the weather, road traffic, or changing light conditions due to the time of day.
You have complete freedom and a great way to exercise – whether your goal is to lose those extra pounds, or to stay in peak condition because doing so makes you feel great.
What sets recumbent bikes apart from most other types of exercise equipment is that the posture you're able to maintain and the comfort level it affords as you can se from these recumbent exercise bicycle reviews.