Proform 6.0 RT Space Saver Treadmill Reviews
The Proform 6.0 RT treadmill is another solid entry in the entry-level treadmill market. With its 2.5 hp motor, the ability to function at different inclines, a weight capacity of 300 pounds per user, and speeds of up to 10 mph – it's more than adequate as a basic treadmill as you will find out in the Proform 6.0 RT Space Saver Treadmill Reviews  from some users on what they like and do not like about this model .
But keep in mind, just like it's major competitor, the Weslo Cadence, the pro-form is not designed for heavy duty running.
Good treadmill for  jogging and Walking
This quality machine is ideal for walking and jogging. So if this is what you're planning to do, read on because you're going to learn some valuable information about this popular treadmill. And if you're a runner, you should check out this popular runner's treadmill instead.
Walking is natural. It's a fabulous way to exercise and the easiest way to get back into a daily exercise routine. With a quality treadmill, you never have to worry about the time of day or night, or the weather. You don't need to wait for a friend to walk with you. You just get up – and get moving.
After checking out the Proform 6.0 treadmill in detail, it became apparent that this company makes a quality piece of exercise equipment. Most notable to me was the comfortable, cushioned track that's built-in to every Proform treadmill. It actually has a substantial cushion to lessen the impact as your foot hits the tread with each step you take.
It goes Easy on Your Joints
If you're among the lucky few who don't yet have any knee pain – that's great. But you should be aware that as we grow older, most of us suffer from bad backs, wonky knees, and hips that need to be surgically replaced. But you can lessen the impact and any aggravation you experience when you exercise now or in the future with a treadmill that has adequate cushioning under the track. And that's exactly what the Proform space saver treadmill gives you.
Most other treadmills in this budget category of the market are stiff and unforgiving. They are far less comfortable than the Proform. But that's not something that is always clear from other Proform 6.0 RT treadmill reviews because – I suspect – those folks haven't tried out some of the other low cost options. You can prove this to yourself by testing a bunch of different models at your local Sears, or sporting goods retailer. But don't forget to come back here for the best price and free delivery too.
Push Button Incline Adjustments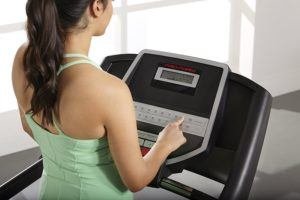 You may think that having an optional incline adjustment is no big deal. But let me tell you it is a key factor in increasing your level of cardiovascular fitness. It's also the key to burning off any excess weight. The first few times you try it, you'll feel it right away as you exert more energy just to be able to walk uphill. But the more you do this, the higher your fitness level climbs.
A Control Panel That Makes You Feel In Control
But they didn't stop there. The Control Panel is another great feature on the Proform 6.0 treadmill. It's clear, easy to read, and simple to operate. With it's bright LCD display – it reveals your current speed, the number of calories burned, and the distance traveled.
There's also a heart rate monitor built into the handlebars. Proform refers to this as an EKG Grip Pulse. It's the kind of console that provides key information without complication. What you don't want is a control panel that looks like the dashboard of the 747 jetliner. Clear and simple is best and that's what you get with the Proform 6.0 RT.
It Folds Up Too – To Save Space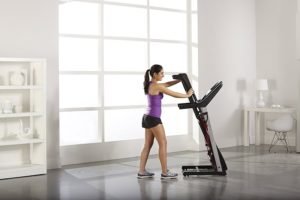 The Proform folds up quickly to make it easier to store – without taking up too much space. The fold up is vertical in nature, so it's not something that you can push under a bed to hide. But you will save considerable floor space in the folded up position and you can relocate the treadmill into a corner of the room so it's out of the way when not in use. This easy foldaway storage option is excellent for people in living in apartments or small condos, or anyone without a ton of free space to spare in their home.
Yes, there's a whole lot to like about the Proform 6.0 RT Space Saver treadmill.
Another advantage is that it's relatively quiet to use. Some treadmills have larger (and louder) motors – and that can be a problem sometimes. It means you can't hear the music or the television as you work out. Or, it means that you're disturbing other family members, or perhaps – even the neighbors.
Nobody likes loud noise. But let's face it – some noise is inevitable. The Proform is intelligently designed with a powerful motor that's not excessively loud. So you can enjoy the best of both worlds because you get performance without disturbance.
It has the Best Warranty in The Business
Additionally, Proform offers one of the strongest warrantees in the market. They guarantee their product for a full five years. This is superior to most competitors and a major factor in giving pro-form the market success that it has had. If you've ever had warranty issues with other products, you'll probably find it reassuring to go with the pro forma.
Is there any reason to not buy a Proform 6.0 RT treadmill. I can think of any. But I did notice a couple of Proform treadmill reviews that had some minor complaints.
What Some users Dislike About The Proform Treadmill
A common complaint is that the 6.0 RT is not a runners treadmill. If you're looking to buy a treadmill to run on – this is not the model for you. It is suited strictly to those who prefer to walk or jog.
The tread is somewhat short. That's another reason why it's not suitable for runners. Runners need a longer deck for those extended strides.
There's also a potential problem with larger than average users. with the short tread surface, there's not enough room for a full stride at a brisk pace when you happen to be 6'4". For taller folks you may want to have a look at a machine with a longer track. This one clearly isn't the best option for tall people, unless you only plan to walk on your treadmill at a relaxed pace. The faster you go the more your stride naturally extends, requiring a larger tread area.
We probably shouldn't expect the world at this kind of bargain price. I suppose that at some point, the product designers had to make choices and in this case, they opted for a more compact design. So when shopping, you've got to consider what's most important to you in the treadmill you want. Do you want something that has a longer tread deck, or one that folds up to save space?
The motor supplied with every Proform 6.0 RT is certainly powerful enough for brisk walking and jogging. But it's not made for anything more than that. You wouldn't be able to run on this machine anyway, due to the tread size, so having a motor capable of running kind of defeats the purpose.
The Proform is a solid choice for a lot of people and families. It's an excellent option for those who live in relatively small apartments or houses.
There's a ton of value here including the dashboard console that allows you to monitor calories burned, your current speed, and the distance you've already traveled. It's a simple to operate machine, yet one that can enhance your fitness level considerably. It's great to be able to see how many calories you're burning off. Who wouldn't want to be who wouldn't want to know this information? It can help motivate you to get back on the treadmill again tomorrow.
About the Proform 6.0 RT treadmill
The motor provided in the Proform 6.0 RT treadmill is both powerful and efficient. It's a Mach Z motor with 2.0 continuous horse power. This means that it's strong enough to handle light workouts as well as intensive exercise sessions.
This motor also comes complete with a internal cooling system to help stabilize it even during peak exercise periods where the strain on the motor is it an all-time high. It's also a durable power supply – one that should last you as long as you own the treadmill.
When it's this easy to adjust the speed and incline level in an instant, there's no reason not to. This adds versatility to your exercise regimen and gives you a greater chance at longer sessions where you derive more healthful benefits.
The weight capacity of 300 pounds is excellent for a treadmill in the low price category. With this one you don't have to worry about the frame not being capable or durable enough.
Incline levels adjust up to 10%. This helps you achieve your fitness goals sooner than expected because you're exerting more energy. It's a great way to stretch as you reach a higher level of fitness.
The maximum speed of 10 mph is more than enough for most average users at home. But it's not going to satisfy you if you're an athlete who wants to work on speed. However, when combined with the 10% incline, you can get a significant work out without needing to go beyond 10MPH.
Not to be outdone by the competition, the Proform now ships with eight built-in workout programs designed by a personal trainer. These programs will help you burn calories and shed pounds faster. They also help you break the monotony of doing the same thing day after day on the treadmill. Of course you're free to work out anyway you want. But these programs give you many more options and a workout that's as intense as you want it to be.
The LCD display reveals the time of your training, calories burned, distance traversed, and your heart rate. The heart rate monitor shows you the intensity level of your workout. Continuing to monitor your heart rate as you exercise gives you key information in real time. You can then adjust to the intensity that will enable you to reach your fitness goals, or slow things down.
It's not just that it folds up easily. What's really cool is that it seems to compress so much more than many similar folding treadmills. This saves you space. When space is at a premium, this is an important consideration.
With iPod compatibility, you can be inspired and entertained with your own hand-picked musical selections as you work out. It doesn't get any better than that.
The Value Of A Reliable Treadmill
Being able to work out every day on the treadmill will improve your endurance as you build strength. It also means that you'll have a healthier circulatory and cardiovascular system. And the fact that you can you lose weight and tone your muscles with this simple piece of equipment is the icing on the cake.  If you have all the facts  after reading these Proform 6.0 RT Space Saver Treadmill Reviews,  you should get this treadmill and change your life. There's really no need for anything else.
The Verdict
For a low budget treadmill – the Proform 6.0 RT Space Saver Treadmill makes a solid choice. While it doesn't come with a cooling fan and it's not made for taller than average users, it's still a terrific option for many potential buyers. The five-year warranty means that you've got nothing to worry about.
If you get a few years of regular use out of a discount treadmill – and you most certainly will with a Proform – what more could you ask for? While it may be smaller than other treadmills in the market, it's ideal for anyone who has to deal with tight spaces.
Save
Save