NordicTrack x22i Incline Trainer Treadmill Review
The name of this new and powerful NordicTrack x221 Incline Trainer Treadmill was derives from a 22 inch web enable HD wide touchscreen, and this feature is what puts this very best and hightly rated treadmill not only as a top NordicTrack  inclined trainer series but also to the treadmill market as a wholeThe very high performance design coupled with the technology permits users to train at an upper limit of 40 percent incline and also a lower limit of six percent decline which makes it   a very solid investment.
In this Nordictrack x22i review, we are going to give you our research analysis of this product to enable you to make an informed decision.
Coupled with an adjustable power incline, that undoubtedly doubles the range of incline and decline of most trainers (making it possible to burn up to times the calories). this x22i can also boast  of one the most all inclusive training console that is presently in the marketIf you have an iFit Coach plus the membership, you will be having access to an unlimited number of workout, including nutrition, exercise, sleep, and activities tracked daily. Also, an additional iFit plus provides you the benefits that includes more custom personal training than before.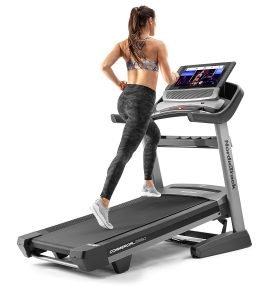 The  Incline Trainer, just like the entertainment package, the amazing engineering that is behind the X22i Incline Trainer, is aloso very rubust having a 4.2 CHP motor that helps you to power-through your workout routine at up to a speed of 12MPH.
The motor itself comes with Lifetime warranty, while the parts and the electronics are under a six year warranty. which makes it the best NordicTrack warranty package available.
Considering all things included, this X22i Trainer is considered a favorite luxury purchase for people looking for a very powerful and yet very versatile treadmill machine
Click here to to see the lowest price on the X22i Incline Trainer
Technical Info:
Dimensions:
Height: 71.6"
Width: 39.6"
Length: 70.2"
Max user weight: 300 lbs
Computer Features:
Vibrant, 22-inch smart HD touchscreen brings you top-of-the-line personal training from around the world
44 built-in workout apps and programs to keep your fitness varied
iFit Coach Plus compatible and tracks your nutrition, sleep, exercise, and daily activity to help you reach your goals, as well as lead you in one-on-one sessions with qualified personal trainers from around the world
Adjustable incline up to an impressive 40 degrees, as well as a decline of 6 degrees, allows you to burn five times the number of calories in your workout
OneTouch® controls make changing the intensity of your workout easier and quicker than ever
4.25 CHP DurX Commercial Pro Motor built-in to help you power up hills and down declines
Built-in, Reflex Cushioning brings enhanced comfort to your joints with every step
Integrated heart rate monitoring using the built-in sensor grips or the free iFit® Bluetooth® wireless chest strap
Autobreeze double workout fans automatically adjust to keep you cool according to the intensity of your workout
Built-in auxiliary music port allows you to plug in your own music and train to your favorite tunes
Warranty:
Frame, motor and deck: Lifetime
Parts and electronics: 6 years
Labor: 3 years
NordicTrack also provides a 30-day money back guarantee
Shipping and Assembly:
Free shipping: At the moment, if you purchase the X22i Incline Trainer on the NordicTrack website  shipping is free. This offer may be for a limited time only.
The X22i Incline Trainer can easily be assembled at home using the provided instructions.
The NordicTrack X22i , the best incline treadmill can be easily assembled at home by using the instructions provided. What we love about this Incline Trainer Treadmill: The doubled power of the Incline/Decline. The adjustable option of the Incline/Decline of the nordictrack commercial trainer . It has atilt of minus to plus 40 degrees. A tilt range that almost doubled that of a standard treadmill.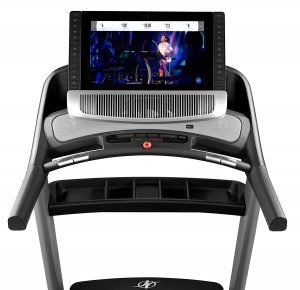 With this special feature, it can increase the amount of calories burned during a workout many times over. Incline training provides a great way to have your muscles get prepared for outdoor training, and also aid in muscle toning and many different challenges. It does matter what your fitness goals are, as you can use the nordictrack incline trainer to meet them and also provide and improve cardiovascular fitness, and burn calories.
The Supersized 22″ Touch screen: The 22″ HD touch screen is a good addition to this trainer series which doubles the touch screen size of older models. The are some new additions in the entertainment console compared to the older model. It has all the feature that the older model had but it now includes the latest version of the iFit cCoach which is called the iFit Coach plus.
With the upgraded version, you would have a custom made workout plan led by personal trainers from anywhere in the world who would be guiding you as you workout. But of course it comes with a price tag i.e. monthly subscription for the iFit Coach plus. But if this is a barrier to you, you can still use the web-enabled console which has 44 built-in workout apps that can keep you busy by motivating you in your training sessions
Other things to consider: Given the packed entertainment and features, the high end engineering design, and as a NordicTrack state of the art release , you can be rest assured that the price of this incline trainer not surprisingly would be on the high end. While you will be digging deep in your pocket to pay for this machine, if you find that the price point is too steep for your comfort and this 22 " NordicTrack Incline trainer X22i is not for you, you still have some other options that might be comfortable in your price range. You can still take a look at some of the older models in the NordicTrack treadmill inclined trainer series that are still high quality models.
Conclusion about the NordicTrack X22i Treadmill.
This treadmill is a top of the line – state of the art indoor fitness equipment which doubles the incline range and also doubles the High Definition touchscreen compared to the standard model. The Incline Trainer Treadmill is build for maximum comfort and at the same time challenges you body during workouts as it is filled with a variety of workout plans, customizable features and advance tracking. If your goal is to look for the latest, best and a more functional treadmill in the market, then you have just found yourself one with the NordicTrack x221 Incline Trainer Treadmill at the nordictrack amazon sale portal